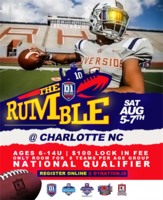 D1 Nation
presents
The Rumble @North Carolina- D1 National Qualifer Documents
Matthews , North Carolina
Messages
Rumble July 8-9
Coaches

Join us for the Rumble , July 8-9 @ Concord High School 481 Burrage Road, Concord ,NC 28025. Come and Qualify for D1 National Championships December 15-18th @ Atlanta GA

$100 Lock-In Fee. Cash app $nation544 ..... Ages 6-13U - Click Here for More Information

Space is limited ...2 Game Guarantee ...
Qualified Teams
Coaches

We wanted to thank you for coming to the 3rd annual Rumble @North
Carolina . The top two teams in each age group qualify to participate in our Nationals December 16-19 in Atlanta.
7U
RHE
Dark Horse Elite
8U
Carolina Elite Panthers (SC)
GTOP Sabres (NC)
9U
Mounty Boyz (WV)
Trojan Black (OH)
Winston Salem Little Indians (NC)
10U
RHE (NC)
Gastonia Knights (NC)
11U
NCG Punishers (NC)
Gastonia Knights (NC)
12U
NCG Monstars (NC)
GTOP Sabres (NC)
14U
Warriors Academy (NC)
Tennessee Outlaws



Thank you
D1



Brackets Now Posted
Brackets now posted - click here
8/6/2022 11:35 PM
RESUME PLAY
Coaches

Time now is 4:39 , we will resumne play in 15 minutes , please make your way back to the fields

Thanks
8/6/2022 4:39 PM
Weather Plan
Coaches

Our plan is to let this weather system
pass and continue wear we left of. We will notifu
you when to return to the field.

Thank you
8/6/2022 3:49 PM
Final Schedule
Coaches

1. The final schedule has been posted - click here
2. Please be reminded thaat team Check-in is 1 hour prior to your first game . All players must be present . If you have not submitted your roster on exposure events , please bring a copy with tou
3.. Discounted Advance ticket sales will end @ 3pm on Friday. Please let your parents know . Click here for tickets

Thank you ,
D1
8/4/2022 9:51 PM
PURCHASE TICKETS HERE
Coaches :

Welcome to the 2nd Rumble @ Charlotte . Here is some information to make your experience enjoyable. This a National Qualifier , the top two teams in each age group will recieve Automatic Bids to our D1 National Championships Dec 16-19 in Atlanta. Winning teams will also be included in our National Rankings; This email will supercede all previous communications.

Schedule:

Admission:
We will not be accepting any cash at the gate. All tickets must be purchased online . A link will be provided for your convenience when the schedule drops. TICKETS WILL GO ON SALE TODAY

THE ADVANCE TICKET IS THE WEEKEND PRICE - YOU WILL BE GIVEN WEEKEND PASS AT THE GATE

ADVANCE OF TICKETS - $15 per day / Students 7-12 will be $5 per day Childeren under 6 free
DAY OF TICKETS - $20 per day / Students 7-12 will be $5 per day Childeren under 6 free



Tournament Update
Coaches:

Thank you for participating in the 2nd Annual Rumble @ Charlotte . Here is some information to help

1. Schedule will be out later today no later than 5:00 pm today!

2. Venues:
Mountain Island High School -13440 Lucia Riverbend HWY , Mt Holly , NC
28120 (2 Turf )
Hopewell High School - 11530 Beatties FOrd Road , Huntersville , NC 28078
(Grass Stadium)

3. Rosters: Rosters have been emailed out on exposure events management
form and will need to be filled out no later than Thursday COB

4. Admission: Adults $15 , Children under 12 $5. Advance tickets will go on
sale online today

5. Format - Brackets 2 Game Guarantee

6. Awards - 1st Place Trophies , MVP , Golden Tickets

Thank you,
D1
The following reports can be viewed, printed or downloaded.
More detailed reports can be found on the divisions page.
Reports
---
All event related questions should be directed to Harold Thompson at d1nation@yahoo.com or call 4044542919.