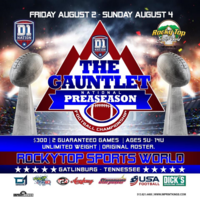 Always Live: Rocky Top present The Gauntlet Preseason Youth Football Championships
August 2-4, 2019 Gatlinburg, Tennessee
Messages
Coaches
We would like to welcome you to the
ALWAYS LIVE: GAUNTLET Pre-season National Championships.
We wanted to take this opportunity to provide you with the necessary information to make your experience more enjoyable.
HOTEL INFO
1.
Online Registration
will close July 27, the
schedule
will be posted on the D1nation.us website no later than noon , July 28. If you have any schedule concerns please email them to
d1nation@yahoo.com
. Please have all of your parents download the exposure event app for the schedule as well.
2.
Roster Forms -
Online Roster forms must be filled out prior to July 28. The online roster will be used in lieu of the league roster becaue some teams have not certified with there leagues. Failure to fill out an online roster will lead to delays in your certification process. CHECK YOUR EMAIL
3.
Team check in
. Teams must check in at least 2 hours prior to there first game.
Each team will recieve 6 Coaches Wristbands per team. Wristbands must be worn the entire weekend. Replacement wrist bands will be $20.
CHECK IN AT THE ROCKY TOP SPORTS 1870 Sports Wolrd Blvd , Gatlinburg. We will also have weekend passes available on Friday Only at CHECK-IN

4. Certification -
Each team must have the following forms of identification
- State ID
- Passport
- National Sports ID
- Original of Birth Certificate with raised seal


Age Control Date - July 1

Each player must be physically present at check-in to recieve an event wristband .

Check-in hours - Friday 9:00am - 6pm , Saturday 9:00am - 6pm. Check-in will be at Rockytop Sports World

EACH TEAM MUST BE PRESENT AT HALF TIME OF THE GAME PRIOR IN ORDER TO PARTICIPATE IN THE ON FIELD CERTIFICATION. EACH PLAYER MUST HAVE THERE WRISTBANDS ON

FORMAT -
BRACKET PLAY - 2 GAME GUARANTEE (Subject to changed based on number of teams)


AWARDS - GOLD CHAMPION
recieves -Qualifying Plaque for NYFC National Championship ,Gauntlet National Championship Trophy , Championship Rings , Event T-Shirt
Runner Up
recieves Trophy , Event Tshirt
-
Silver Champion
recieves Trophy Only.
LIVE STREAM
- Games on the Turf fields will be live streamed. All Games will be video taped and copy made available next day for scouting purposes via Youth Sports Rewind. Packages can be pre-ordereed.
VENUE
: ALL GAMES WILL BE PLAYED @ ROCKY TOP SPORTS WORLD.
THANK YOU
D1
Attachment
7/15/2019 12:48 PM
Description
Come and Qualify for the NATIONAL YOUTH FOOTBALL CHAMPIONSHIPS - DEC 20-22 ATLANTA We has assembled one of the nation's strongest youth football scouting teams which is proud to present the nation's first pre-season ranking youth football tournament. There will be multiple opportunities for teams to compete in this prestigious National Preseason Tournament in August. This national tournament which consist of top teams from around the country, guarantees (3) three games over this exciting weekend. Teams will compete in (age only) brackets, this is an unlimited weight tournament. Age brackets are as follows: 5u, 6u, 7u, 8u, 9u, 10u, 11u, 12u, 13u & 14u teams will play for the top rankings in their respective age divisions in the nation. Don't miss this opportunity to prepare your team for a championship season by competing against the best of the best. All championship games will be broadcasted nationally, via live stream on D1 Nation Sports Network The time has finally come to leave the polling behind and EARN your national ranking! For more information email d1nation@yahoo.com 404-454-2919
Tournament
All teams
Boys: 14U, 12U, 11U, 10U, 9U, 8U, 7U, 6U
A/B ability level(s)
$300.00 entry fee
2 game guarantee
Location
Rocky Top Sports World
1870 Sportsworld Blvd
Gatlinburg

,
TN
,

37738
Directions
General Information
Welcome to the Gauntlet Play Off Series. The Gauntlet Play-off Series will consist of National Qualifiers located in some of the Nations Football Hotbeds such as OH, TX, MO ,GA , SC, AL , FL.

GAUNTLET HOTEL INFORMATION -

Super Regional champions will receive bids to compete in the National Youth Football Championships(NYFC) December 20-22 in Atlanta ,



RULES
High School Rules . Clock stops on all regular football situations
Clock will start ON THE READY WHISTLE after :
a) Out of Bounds
b) Incomplete passes
c) First downs
d) Penalties
Clock will start ON THE SNAP (1st Touch)
a) Scores
b) Change of Possession
c) Time outs
Game time is game time: If team is 15 minutes late game will be forfeited.
5U/6U - 6 minute quarters , 2 timeouts per half , Clock stops on change of possession , incomplete passes and time-outs. Coaches allowed on field
- Kick-offs
- No Punts - Punts will be walked off 20 yds from line of scrimmage
- Extra points - Running 1pt , Throwing 2 pts
- Defensive players cannot line up over center
- Mercy Rule: After 20 pt lead - Game will turn into running clock - LINING UP OVER CENTER pr in the A GAP.
7U- 8U - 8 minute quarters , 2 timeouts per half , Clock stops on change of possession , incomplete passes and time-outs. Coach's allowed on the field.
- Kickoffs and Punts are mandatory
- Extra points - Running 1pt , Throwing 2 pts
- Defensive players cannot line-up over center
- Mercy Rule: After 20 pt lead - Game will turn into running clock - no lining up over center , no blitzing during mercy ruke
9U-14U -10 minute quarters , 2 timeouts per half , Clock stops on change of possession , incomplete passes and time-outs.
- All teams will perform kickoffs and punts.
Overtime - In case of overtime , Ball will be placed on the 20 yd line. Each team will have the opportunity to advance the ball and score. Should one team score and the opposing team is stopped, then the team that scored wins. If both teams score the same amount of points , then the ball is placed on 10yd and each team has 4 plays to score. If the game ends in another tie , then the final overtime will be determined by penetration.
Mercy Rule: After 20 pt lead - Game will turn into running clock
Age Eligibility: All players must on official league roster in order to participate. League age requirements take precedence. All players must wear wristbands issued at certification. Teams will be allowed to add 3 players to their roster to fill in for players on the original roster that are not participating.
Weight: Weight is unlimited for this tournament.
Uniforms:Each team must have a home and away jersey.Home Team- White ,Visitors - Dark.
Code of Conduct:
Coach's Conduct:
We expect coaches to behave professionally. Any verbal or personal attacks on referees or staff will not be tolerated. Coaches will be issued one warning. After the initial warning , the coach in question will be expelled from the competition and will not be allowed to coach the next game.
Coach's Passes
Coaches must have on Coaches passes to be on the sideline. Head coach will be issued wristbands at registration. Wristbands must be worn the entire weekend. All coaches must be signed in. We will only issue wristbands once. Each team will be issued 6 wristbands only
Registration
Registration will be closed after Tuesday, July 30, 2019 (EDT).
Registration is currently open for the following divisions:
To make a payment please visit the payments section of the event.
---
All event related questions should be directed to Harold Thompson at d1nation@yahoo.com or call 404-454-2919.
YOUTH FOOTBALL EVENT, TOURNAMENT AND LEAGUE DIRECTORY
Market your event by submitting it to our directory.
Submit Event