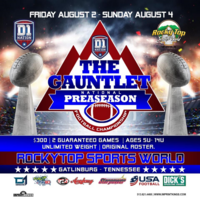 Always Live: Rocky Top present The Gauntlet Preseason Youth Football Championships
August 2-4, 2019 Gatlinburg, Tennessee
Description
Come and Qualify for the NATIONAL YOUTH FOOTBALL CHAMPIONSHIPS - DEC 20-22 ATLANTA
Tournament
All teams
Boys: 14U, 12U, 11U, 10U, 9U, 8U, 7U, 6U
A/B ability level(s)
$300.00 entry fee
2 game guarantee
Location
Rocky Top Sports World
1870 Sportsworld Blvd
Gatlinburg

,
TN
,

37738
Directions
General Information
Welcome to the Gauntlet Play Off Series. The Gauntlet Play-off Series will consist of National Qualifiers located in some of the Nations Football Hotbeds such as OH, TX, MO ,GA , SC, AL , FL.

Super Regional champions will receive bids to compete in the National Youth Football Championships(NYFC) December 20-22 in Atlanta ,

GA THE GAUNTLET CHAMPIONSHIP SERIES - NYFC SUPER REGIONAL TOURNAMENT DATES

July 19-21 - Peach State Classic - Pre-season Football Classic - Atlanta , GA powered by D1spects

July 26-28 - South Carolina Pre-Season Kick-Off Classic - Boiling Springs , SC - D1 Nation

July 26-28 Best of the Midwest . Cincinnati, OH -powered by Star Power/D1 Nation

July 26-28 King of Kings 3 Youth Football Tournament , Jackson MS powered by James Davis

August 2-4 The Gauntlet Pre-Season Football National Championships - Gatlinburg , TN - D1 Nation/ Rocky Top Sports World

August 9-11 4th Annual Midwest Gauntlet "Bring Your A Game" - St Louis , MO - powered by Badboyz Youth Foundation

August 9-11 The Main Event- Pre-Season National Classic - Chicago , Il - presented by D1 Nation/ Chicago Vikings

August 31-2 8th Annual Best of the Best (BOB) - Atlanta , GA powered by D1spects

August 31-2 -5th Annual Border Wars -Kansas City MO presented by D1 Nation/NETS

November 22-24 8th Best of the Best -Thanksgiving Edition - Atlanta , GA presented by D1spects

December 20-22 NATIONAL YOUTH CHAMPIONSHIPS - ATLANTA , GA presented by D! NATION

SUPER REGIONAL WINNERS QUALIFY TO PARTICIPATE IN THE NYFC CHAMPIONSHIPS DEC 20-22

We has assembled one of the nation's strongest youth football scouting teams which is proud to present the nation's first pre-season ranking youth football tournament. There will be multiple opportunities for teams to compete in this prestigious National Preseason Tournament in August. This national tournament which consist of top teams from around the country, guarantees (3) three games over this exciting weekend. Teams will compete in (age only) brackets, this is an unlimited weight tournament. Age brackets are as follows: 5u, 6u, 7u, 8u, 9u, 10u, 11u, 12u, 13u & 14u teams will play for the top rankings in their respective age divisions in the nation. Don't miss this opportunity to prepare your team for a championship season by competing against the best of the best.

All championship games will be broadcasted nationally, via live stream on D1 Nation Sports Network The time has finally come to leave the polling behind and EARN your national ranking! For more information email d1nation@yahoo.com 404-454-2919
Registration
Registration will be closed after Tuesday, July 30, 2019 (EDT).
Registration is currently open for the following divisions:
To make a payment please visit the payments section of the event.
---
All event related questions should be directed to Harold Thompson at d1nation@yahoo.com or call 404-454-2919.
YOUTH FOOTBALL EVENT, TOURNAMENT AND LEAGUE DIRECTORY
Market your event by submitting it to our directory.
Submit Event